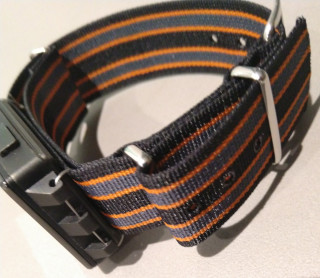 I love my Pebble Steel, but let's face it, the original leather watch band is ugly. You can get a metal band which looks slightly better instead, but they tend to be hard to get nowadays.
The main issue is that Pebble decided to use their own proprietary band attach mechanism for the Pebble Steel, so you cannot just use regular watch straps. Fortunately NATO watch straps are easy to adapt!
I used fantasy jewelry stringing wires and crimp beads to build a small ring through the Pebble band attach and use them to attach the NATO strap. Easy, cheap, and much better than the original.